Magnitsky Awards
Presenter's Bio
Vladimir Kara-Murza
Democracy Activist and Chairman of
the Boris Nemtsov Foundation for Freedom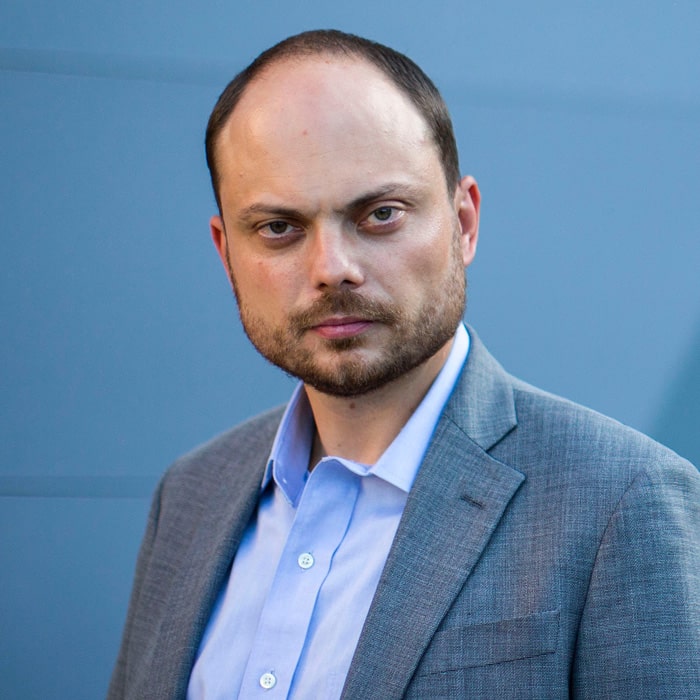 Award Presenter 2018 & 2019
Outstanding Contribution to Human Rights Law
Outstanding Russian Opposition Activist
Vladimir Kara-Murza is a Russian democracy activist, author, and filmmaker. He was a longtime colleague of Russian opposition leader Boris Nemtsov and chairs the Boris Nemtsov Foundation for Freedom. Kara-Murza is a former deputy leader of the People's Freedom Party and was a candidate for the Russian State Duma.
He has testified before Parliaments in Europe and North America and played a key role in the passage of the Magnitsky legislation that imposed targeted sanctions on Russian human rights violators in the U.S., Canada, Great Britain, and several EU countries.
U.S. Sen. John McCain (R-Ariz.) called Kara-Murza "one of the most passionate and effective advocates for passage of the Magnitsky Act"; U.S. Sen. Ben Cardin (D-Md.) described him as "a courageous advocate for the democratic process and fundamental universal human rights".
Twice, in 2015 and 2017, Kara-Murza was poisoned with an unknown substance and left in a coma; the attempts on his life were widely viewed as politically motivated.
He is a contributing writer at the Washington Post and hosts a weekly show on Echo of Moscow radio, and has previously worked for the BBC, RTVi and other media outlets. Kara-Murza has led international efforts to commemorate Nemtsov, including with street designations in Washington D.C. and Vilnius.
He is a vice president of the Free Russia Foundation and a senior fellow at the Raoul Wallenberg Centre for Human Rights; and has been a visiting fellow at the University of Chicago, leading a seminar course on contemporary Russia. He is a recipient of several awards, including the Sakharov Prize for Journalism as an Act of Conscience, the Magnitsky Human Rights Award, and the Geneva Summit Courage Award.