Magnitsky Awards
Presenter's Bio
Sir Iain Duncan Smith MP
MEMBER OF PARLIAMENT, CONSERVATIVE PARTY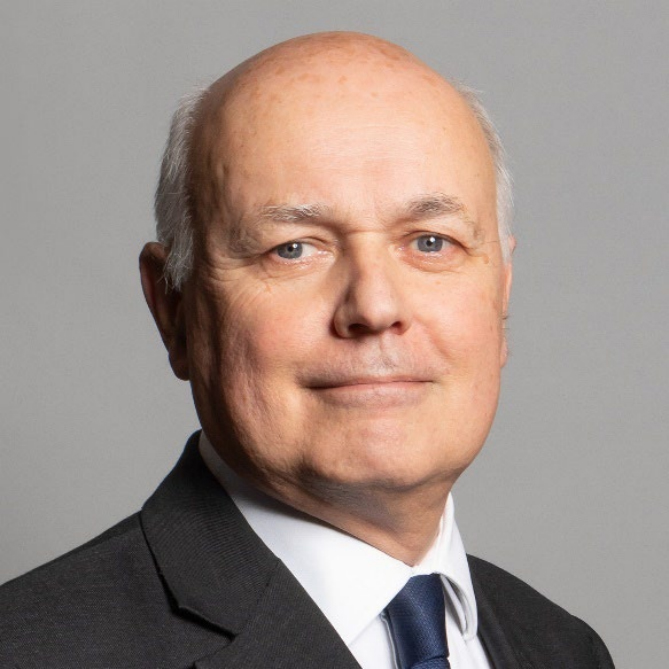 Award Presenter 2023
Member of Parliament, Conservative Party
Sir Iain Dunan Smith was educated at Dunchurch College of Management, the Royal Military Academy at Sandhurst, the Universita per Stranieri in Perugia and HMS Conway in Anglesey. As part of the Scots Guards, Iain saw active service in Northern Ireland and Rhodesia (now Zimbabwe) and served in Canada and Germany. Iain later worked for GEC-Marconi, a defence company, and Bellwinch, a property company. He has also been on the board of Jane's Information Group, a publishing company. Iain married Betsy in 1982 and they have four children – Harry, Edward, Rosie and Alicia.
Iain was elected Member of Parliament for Chingford in 1992, and he was re-elected in 1997 as Member of Parliament for the re-drawn constituency of Chingford and Woodford Green. Iain was promoted to William Hague's Shadow Cabinet in 1997. As Shadow Secretary of State for Social Security, Iain exposed Labour's hypocrisy and failure on welfare reform. When he was promoted to Shadow Defence Secretary, he exposed the Government's failure to ive British forces sufficient funding and equipment.
In 2001, Iain was elected Leader of the Conservative Party. After stepping down in 2003, he set up the Centre for Social Justice (CSJ), an independent think tank committed to tackling poverty and social breakdown. Iain worked tirelessly as Chairman of the CSJ until the 2010 General Election, when he was appointed Secretary of State for Work and Pensions. He served in this position until March 2016.Iain remains the Member of Parliament for Chingford and Woodford Green and is always happy to deal with constituents and their concerns.