Magnitsky Awards
Winner's Bio
Mykola Kuleba
OUTSTANDING HUMAN RIGHTS ACTIVIST AWARD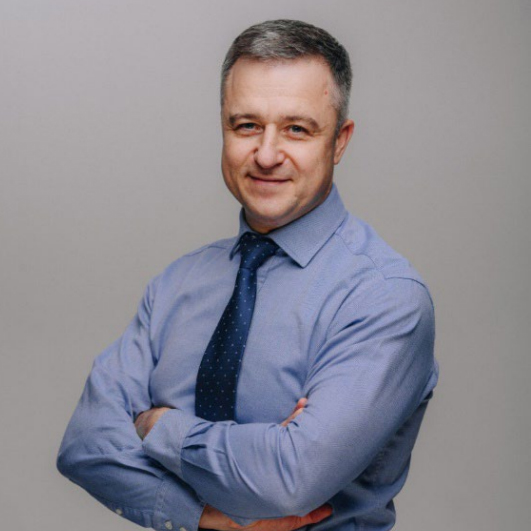 Award Winner 2023
Outstanding Human Rights Activist Award
Mykola Mykolayovych Kuleba is a Ukrainian statesman, children's rights advocate and humanitarian.He is a pioneer of Ukraine's children's rights movement and initiated child welfare reforms and legislation to move Ukraine away from Soviet-era policies towards Western best practices.
Kuleba is co-founder and head of Save Ukraine, Commissioner of the President of Ukraine for Children's Rights (2014-2021), head of the Kyiv Children's Service (2006-2014), and co-founder of the Ukraine Without Orphans Alliance.
Mykola decided to devote his life to saving children when he met a group of homeless children who lived next to a sewer drainage site near Kyiv's Demiivska Square. During this period, about 100,000 children in Ukraine were living on the streets. As a result of that experience, Mykola Kuleba created a network of centers in Kyiv to care for orphans, with the goal of returning them to their homes or placing them with a foster family them.
These centers created social services for adoptive families, including post-adoption support. He introduced this program at the federal level, bringing adoptive parent educational and training programs throughout Ukraine.
As Commissioner of the President of Ukraine for Children's Rights, he united and coordinated the government and the public sector to develop a cohesive state policy and state programs that created effective mechanisms for preventing, detecting and combating human trafficking and providing assistance to victims of human trafficking. Kuleba is credited with reducing levels of human trafficking in Ukraine through these policies and programs. He initiated the reform of state-run institutions for children and co-authored the national strategy for deinstitutionalization. He created policies and introduced penalties to protect children from bullying, including cyberbullying.
With Russia's invasion of Crimea and Donbas in 2014, he co-founded the Save Ukraine rescue network, with coordinates dozens of organizations, volunteers, individuals and legal entities to help internally displaced persons, with a special emphasis on children. Save Ukraine has evacuated over 105,000 people from the frontlines and provided more than 120,000 people with psychological assistance. Every day, the Save Ukraine hotline receives more than 300 requests for assistance and runs an expanding network of community centers that address war-related trauma and work to restore dignity to people's lives by providing food, shelter, medical and mental health care. Since the beginning of the full-scale invasion, Save Ukraine been engaged in the return of deported children to Ukraine. Mykola Kuleba's team has returned almost 200 forcibly transferred children back to Ukraine from Russia and the temporarily occupied territories.