Magnitsky Awards
Presenter's Bio
Mikhail M. Kasyanov
Former Prime Minister of Russia and
Leader of People's Freedom Party (PARNAS)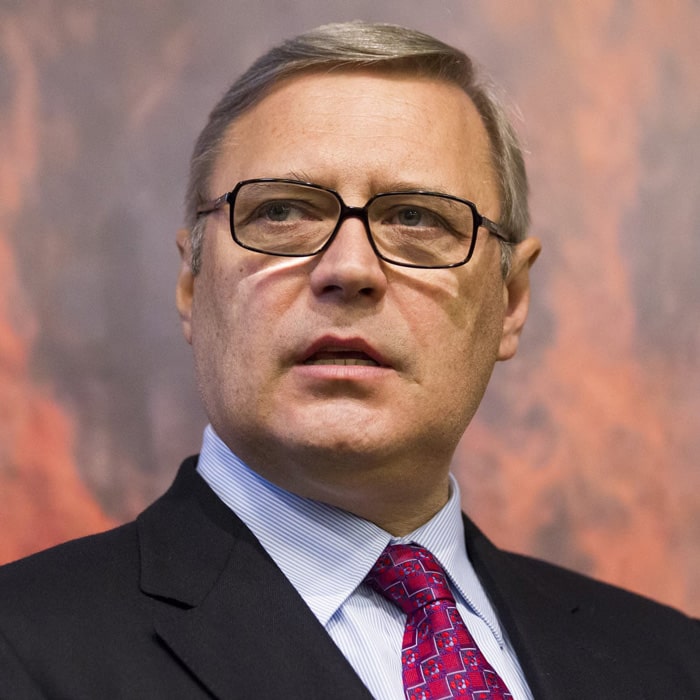 Award Presenter 2015
Outstanding Campaigning European Politician
Kasyanov is a Russian politician who served as Prime Minister of Russia from 2000 to 2004. He advanced a number of pro-democratic reforms that opened Russia's boarders, liberalised capital control and foreign trade, implemented tax and customs reform, created the land market and others. Successful implementation of the reforms led Russia to a trajectory of sustainable economic growth.
In 2006, Kasyanov came back to politics to fight for democratic values against growing authoritarian tide of Mr. Putin.
In 2008, Kasyanov as a candidate participated in presidential elections but soon was denied on political grounds.
Kasyanov's PARNAS initiated massive protests of citizens against lawlessness and corruption, war in Ukraine. PARNAS pursues the policy of decommunization in Russia.
In 2016, Mikhail Kasyanov received several death threats including one made by Chechnya's leader Ramzan Kadyrov, one of Putin's most loyal allies. He released a video showing opposition leader Kasyanov in the cross-hairs of a sniper's rifle. Days later, several men accosted Kasyanov in a Moscow restaurant, rubbed a cake in his face and threatened him.
Mikhail Kasyanov is a principled and consistent critic of Mr. Putin and his regime.