Magnitsky Awards
Winner's Bio
Boris Nemtsov
Former Russian Statesman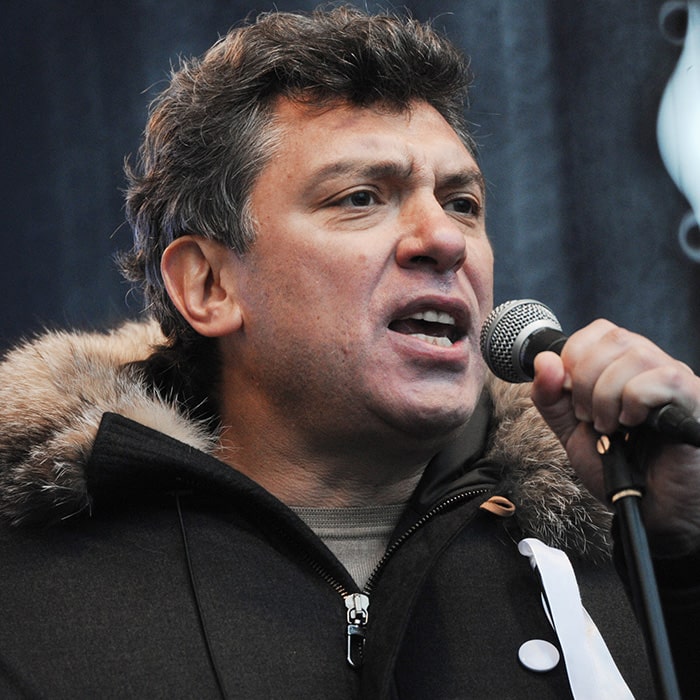 Award Winner 2015
Outstanding Campaigning for Democracy in Russia
Boris Nemtsov was a Russian statesman who served as a member of parliament, regional governor, and deputy prime minister under President Boris Yeltsin and emerged as the most prominent leader of the pro-democracy opposition to President Vladimir Putin.
Born in Sochi in 1959, Nemtsov graduated from Gorky (now Nizhny Novgorod) State University as a physicist, gaining his Ph.D. at the age of 25 and joining the Moscow Physics Seminar led by Vitaly Ginzburg, a future Nobel Prize laureate. In the late 1980s, as the Soviet Union underwent rapid change, Nemtsov joined the democratic movement and led a successful effort to stop the construction of a nuclear plant in Gorky, enlisting the help of Andrei Sakharov.
In 1990, Nemtsov was elected to the Russian Parliament where he emerged as one of the most prominent voices for reform. Following Boris Yeltsin's election to the presidency and the defeat of a hardline coup attempt in 1991, he became governor of the Nizhny Novgorod Region and launched an ambitious programme of market reforms, transforming his region into an economic powerhouse with high investment, infrastructure projects, small-scale privatisation, and thriving private enterprise.
"No greater contrast with the drab uniformity of Moscow could be imagined", wrote former British Prime Minister Margaret Thatcher after visiting Nemtsov in Nizhny Novgorod. "A combination of excellent local products, talented entrepreneurs and laws favourable to enterprise applied by honest and capable political leadership could generate prosperity and progress". In 1996, while an incumbent governor, Nemtsov collected one million signatures against the Russian government's war in Chechnya, personally delivering them to President Yeltsin and helping bring an end to the brutal campaign.
In 1997, President Yeltsin appointed Nemtsov first deputy prime minister of Russia, indicating that he saw him as his future successor in the Kremlin. Nemtsov's tenure was marked by efforts to rein in the influence of the oligarchs and increase government transparency, including with a requirement for officials to publicly disclose their incomes and property. As chairman of a special government commission, Nemtsov was responsible for organising the funeral of the Russian royal family murdered after the Bolshevik revolution. For several months in 1997, Nemtsov led in opinion polls among potential presidential candidates, but his popularity took a hit as oligarch-owned television channels launched a campaign against him. He resigned from the government following the financial crisis of August 1998.
Nemtsov's political comeback came in 1999 with his election to Parliament, where he grew increasingly critical of Russia's new president, Vladimir Putin – especially with regard to his crackdown on the media and military brutality in Chechnya. As Putin's system evolved into fully fledged authoritarianism, Nemtsov became the most prominent voice in opposition to the regime's abuses and corruption, organising mass street protests at home and successfully advocating for targeted sanctions against key Kremlin figures abroad. U.S. Senator John McCain has noted that "without Boris Nemtsov, we would not have had the Magnitsky Act" in the United States.
In 2013, Nemtsov won election to the regional legislature in Yaroslavl. He was planning to lead his People's Freedom Party into the 2016 parliamentary election and challenge Putin for the presidency in 2018. On 27 February 2015, Boris Nemtsov was murdered, by five bullets in the back, as he walked across a bridge in front of the Kremlin. The organisers and masterminds of his assassination remain unidentified and unindicted. The OSCE report on the Nemtsov case has concluded that "the main issue for addressing impunity is not the capabilities of the Russian law enforcement, but political will". Boris Nemtsov has been officially commemorated in Washington, Vilnius, Kiev, and Prague, where Russian embassies now stand on squares bearing his name.