Magnitsky Awards
Winner's Bio
Andrew Rettman
Journalist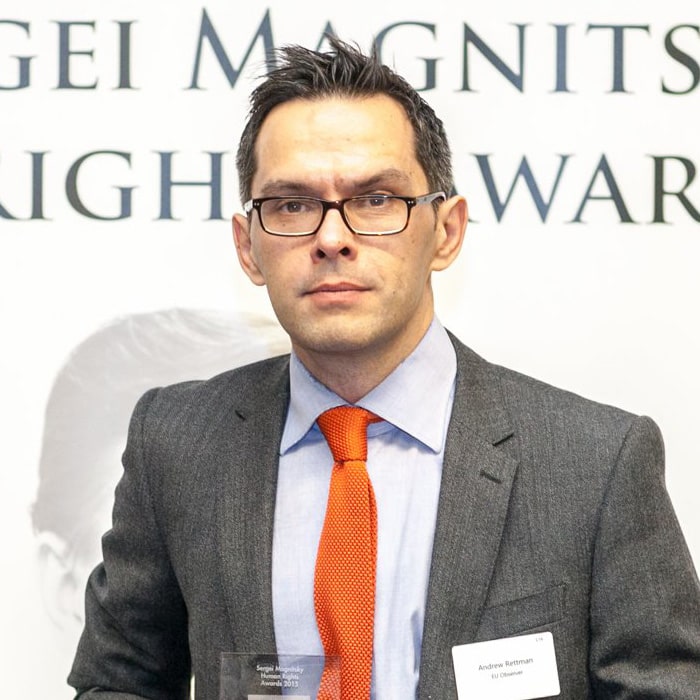 Award Winner 2015
Outstanding European Coverage of the Magnitsky Case
Andrew Rettman writes about EU foreign relations and Western security issues for EUobserver, an independent, Brussels-based news agency, which was founded in 2000 by a Danish journalist. Andrew specialises in the former Soviet, Middle East, and Western Balkans regions, where he has travelled.
He also does investigative stories about espionage, propaganda/disinformation, and money-laundering. He has freelanced for The Times, The Guardian, and The Telegraph. And he is an alumnus of the US state department's International Visitor Leadership Program. He was born in Poland in 1975 and studied English literature at Oxford University. He grew up in Warsaw, as well as Jos, in Nigeria, where his parents worked as medical doctors, and in Newcastle-upon-Tyne in north-east England.
He believes in open societies, free speech, and rule of law. His motto as a writer is: "The best way to be boring is to leave out nothing". But as his late father once said: "Sometimes, the more I say, the further I get from the end of my story".